Kimberly Wheatfill
Kimberly Wheatfill

, Founder and Director of Friends of Unwanted Rabbits

Kimberly Wheatfill, Founder and Director of the Friends of Unwanted Rabbits (FUR) program, became a rabbit advocate shortly after adopting her first rabbit, Princess Thumper, in 1998. At that time she wasn't aware that rabbits were discarded at shelters or that rabbit rescue groups existed.  She volunteered for a rabbit rescue organization for six years before starting Friends of Unwanted Rabbits (FUR) in 2004. FUR was supported by TEAM (Teaching Everyone Animals Matter) the Non-Profit affiliate of the Sacramento County Animal Shelter, until 2018 when Friends of Unwanted Rabbits received it's own nonprofit status. At that time all of the rabbits that came into the Sacramento County Animal Shelter were euthanized. The public was unaware there were rabbits at the shelter as they did not receive any publicity. The rabbits were housed outside, in tiny wire cages until they were put to sleep.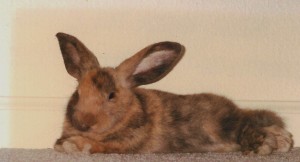 Kimberly began volunteering at the shelter and educating the public and shelter staff on the needs of rabbits. The shelter rabbits were brought inside and the veterinarian started spaying and neutering them. Kimberly provided educational material on rabbit care for the public.
One night on Kimberly's quest to find the perfect shade of pink shoes she stopped by a Petsmart to purchase rabbit food. Upon entering the store she discovered the Petsmart Adoption Center which housed cats 24/7. A light bulb went off and she thought,  "Why not make rabbits a part of the adoption center too?"
Kimberly created an innovative rabbit rescue and adoption program with the Sacramento County Animal Shelter and local area Petsmart Adoption Centers. Rabbits are rescued, spayed/neutered and placed in foster homes where they are litter box trained and socialized. The rabbits are then housed at select Petsmart Adoption Centers. Rabbits are adopted to carefully screened, indoor homes by FUR volunteers. Due to the increased exposure, rabbit adoptions at the shelter have increased as well. 99.5% of rabbits that come into the shelter are now adopted or rescued.
After 9-1/2 years with Petsmart, Friends of Unwanted Rabbits moved to the Folsom Petco Adoption Center. The rabbits now have a fabulous room where they are cared for daily and let out for exercise by dedicated volunteers. Kimberly has established a relationship with a few companies who work with high functioning developmentally disabled adults. She see's the abilities in people and not disabilities. These extra special volunteers have job coaches that volunteer along side with them as they provide love and care for the some of the rabbits. The rabbits provide these wonderful volunteers with love and therapy. It creates a win win for both the rabbits and the volunteers! The rabbit room at Petco, 855 East Bidwell, Folsom, CA has a wealth of rabbit care information available to the public.
When the program started Kimberly only had one volunteer but she was determined to make the program a success for all the rabbits that had been abandoned at the shelter.  It was also an extremely difficult time in her personal life as she navigated through a difficult divorce, illness, injuries, and the death of her father. She often says that the rabbits saved her just as much as she saved them! Rabbit rescue is her passion in life. It's not just about the rabbits that are rescued but all the wonderful people that she meets when she adopts rabbits to their forever homes. Today FUR has over 35 volunteers and fosters who help with her mission to save the lives of rabbits and help find them loving, forever homes.
Friends of Unwanted Rabbits is dedicated to Princess Thumper, the most beautiful and friendly rabbit ever. Through the love of one bunny thousands of rabbits' lives have been saved and will continue to be saved. Kimberly's dream is to one day open a rabbit shelter called Princess Thumper's House.