Volunteer Opportunities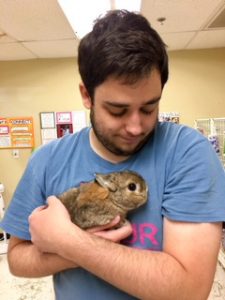 Thank you for your interest in volunteering with Friends of Unwanted Rabbits. We have several volunteer opportunities as outlined below.
Care for the Rabbits at the Folsom Petco
Volunteers typically select one day per week when they clean the cages and get the rabbits out for exercise.  It usually takes about an hour.  You can do it any time during your assigned day.  Our Volunteer Coordinator will meet with you on your first (and possibly other) days to go over the procedures.
We currently have rabbits set up at the Petco located at 855 East Bidwell Street in Folsom. Volunteers must be 18 years of age or older or must be accompanied by an adult.
If you are interested please send an Email and indicate your preferred day(s) you'd like to volunteer.
Click Here to print our Adoption Application
Community Service
If you are volunteering for Community Service hours, we require that you raise a minimum of $20 for our rescued rabbits. All proceeds from your fundraiser will go toward spay/neutering expenses, medical care, and toys for the rabbits.
Once you have raised a minimum of $20, please send us an Email.  Our Volunteer Coordinator will set up a time on a Saturday or Sunday for you interact with the rabbits at the Petco in Folsom.
Below are some fundraising suggestions:
Bottles 4 Buns program.  Collect plastic bottles (no milk containers), remove the caps, and take them to a Recycle Redemption Center in exchange for cash. There is a redemption center located at 1018 Riley Street, Folsom CA 95630 by Walmart.
Have a bake sale.
Collect donations from family, friends, and neighbors.
Use your Facebook page to collect donations.
Upon completion of these activities an authorized FUR volunteer will sign a Community Service verification form.