One Hope Winery Fundraiser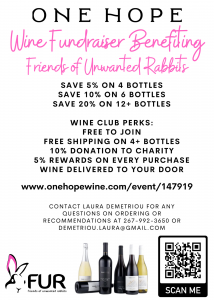 November 29th is Giving Tuesday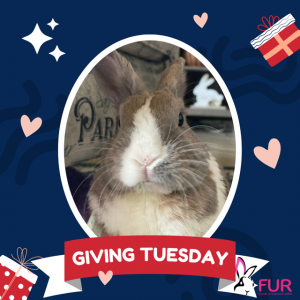 Friends, November 29th is #GivingTuesday. Please consider donating any amount. We need donations for spay/neuter, RHDV2 vaccination, rabbit care, and medical expenses. Squirrel has to have a repeat echocardiogram in a few months. The cost of the echocardiogram is $750. Squirrel also continues to go to physical therapy which costs $62.00 per session. We'd be so grateful for your donation.
Make a $100 donation and choose a Wreath of your choice.
Make a $20 donation and choose a Distressed Wood Rabbit of your choice.
To choose a Wreath 
Make a $100 donation
Send us an email to FriendsofUnwantedRabbits@gmail.com with your top 3 choices and your address.
PLEASE NOTE: We are happy to ship outside of California if you will help cover the shipping cost.
To receive a Distressed Wood Rabbit (swipe to view)
️ To Donate
PayPal FriendsofUnwantedRabbits@gmail.com
Venmo  Friends of Unwanted Rabbits-FUR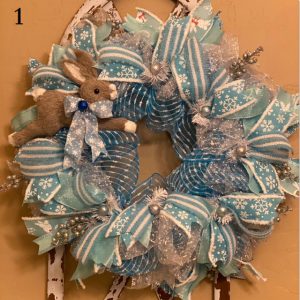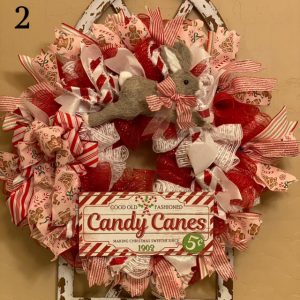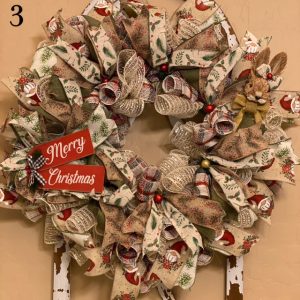 T-Shirts !
Buy one of our custom designed t-shirts and a portion of the proceeds will go to cover medical expenses, spay/neuter, and rabbit care expenses for rescued rabbits. Lots of styles, sizes, and colors to choose from. Proudly wear one of our t-shirts and know that you are helping to save the life of rabbits in need!

DONATIONS NEEDED FOR CARSON!
Carson is a super sweet rabbit, but he needs urgent medical care. He has frequent sneezing , some sneezes are quite violent followed by discharged mucus.
He has been treated twice with antibiotics for pasturella. After Carson didn't get better we had him seen for a second opinion with Dr. McRoberts at Petcare Veterinary Clinic. Carson has a benign growth between his ears. It is suspected that he possibly has the same growth in his nasal cavity which is causing the sneezing and discharge.
Carson needs to have the growth removed, x-rays of his nasal cavity and teeth completed. If a growth is found in his nasal cavity this will have to be removed as well.
We need your help to cover Carson's medical expenses.
Please Click Here to Donate to help Carson or Donate by Paypal here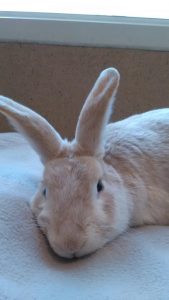 DONATIONS NEEDED FOR BANDIT!
Bandit was left at the Bradshaw Animal Shelter with an abscess in his chin and jaw. His teeth are in horrible condition and he needs extensive dental surgery. Several of his teeth are not viable and need to be removed. He also needs many of his teeth filed down so that they will grow straight. Bandit has been on antibiotics for the abscesses but he needs surgery ASAP. He's an energetic happy little rabbit.
The surgery will cost $1700.00. Please help us give this bunny a chance at a great life by making a donation today.
DONATIONS NEEDED FOR CARY GRANT!
Cary Grant was abandoned at an after hours clinic Wednesday night. A tooth is growing into the side of his cheek. He needs extensive dental surgery. We will need to raise the money through donations for his surgery . He is not in good health and would not survive the surgery right now. Our hearts are breaking. Cary is such a sweet rabbit. We really want to give him a chance.
After talking to Dr. McRoberts we are a little more hopeful. When Dr. McRoberts opened up the abscess to drain it, it wasn't like a normal bunny abscess. Instead of having the normal thick white pasty puss, it was green and smelled horrific. She hasn't seen this type of abscess in a rabbit before but has in a cat. The current treatment plan is to continue with the antibiotics, meticam, sub-q fluids, and syringe feeding. He will be rechecked in a week. If he's doing better and is stronger then surgery will be scheduled, if not we will wait another week. Today, she got x-rays and trimmed part of the tooth that was growing into the side of his cheek.
Cary isn't out the woods yet but we want to give him a chance. We are really going to need your help. Donations are needed to help cover the cost of medical treatment and surgery. Please click on the DONATE button next to the "about" button at the top of our page or Text RABBIT to 41444 to make an online donation. Any amount will help.
We will continue to keep you updated!
Pictures with the Easter Bunny to Benefit Rescued Rabbits!
Join us Saturday March 26th – 1:00pm to 4:00pm
Petco – 855 East Bidwell Folsom
Bring your Children, Dog, Cat or other pet for a picture with the Easter Bunny. You have the option of taking a picture with a FUR rescued rabbit. There will will be treats for the kids too. Proceeds benefit the Friends of Unwanted Rabbits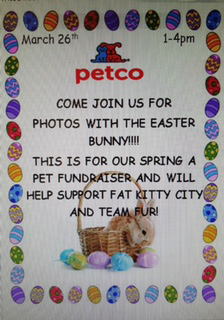 Custom Stained Glass Mosaic of Rabbit up for Auction!
Artist Linda Balestreri has generously donated a Custom Stained Glass Mosaic of a rabbit to be auctioned off to benefit the FUR rabbits, in memory of her loving rabbit Fynn. Starting Bid is $125.00. Click on Good Day Sacramento below to see video's of the rabbit mosaic. Click here for an adorable tease of Bianca and the bunny mosaic.
Please email us your bid

here

.
All proceeds go toward the cost of spay/neuter and medical expenses for our rabbits. Our expenses exceed $7000.00 a year just to cover the cost to spay/neuter the rabbits we rescue. Medical expenses for injured and ill rabbits that we rescue can easily exceed $5000.00 a year. FUR is in need of donations to help us cover these costs so that we can continue to rescue rabbits.
Linda Balestreri is a talented artist specializing in Custom Stained Glass Mosaic Pet Portraits as seen on Good Day Sacramento . You can view a second video of Linda's custom art work on Good Day Sacramento here.  Linda is an animal lover and has adopted several rabbits from FUR.  She lives with her dog Mika and rabbits Bianca, Bear and Cutie. Linda supports the FUR program and has donated one of her special stained glass mosaic pet portraits to FUR, to auction off in memory of her loving rabbit Fynn. Her beautiful stained glass mosaics are even more stunning when hung in a window with the light shinning behind them. To have a custom portrait of your pet rabbit, dog, cat or any of your pets, custom made, please contact Linda or visit her website to see her beautiful art at http://petmosaics.net/.
All proceeds benefit rescued rabbits. UPDATE!! The current high bid is $150.00 submitted by Kathy Winter. Anyone willing to bid higher? Remember proceeds benefit homeless rabbits.
Paint & Sip
Contact us or print the registration application here.