During this difficult time in our world there continues to be rabbits in need of rescue that require urgent medical care. Rabbits like Mariam who was owner surrendered after her owner passed away. Mariam's medical needs are urgent. She has been hospitalized for over a week now. She is severely underweight, has an abscess on her cheek that has left a hole inside of her mouth, and major teeth problems. Her medical expenses will be extensive. She has to be force fed multiple times through out the day and night so that she can put on weight. We need her to gain strength so that she can have surgery.
Will you make a donation today to help Mariam?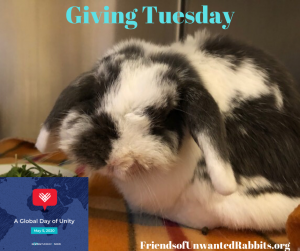 Ms Daisy was abandoned outside with a fractured leg. When the owner was found she didn't want her.
Ms Daisy has a bad fracture. The end of the tibia by the ankle has a spiral fracture that has left a distal bone poking at the skin. There is a second break at the top of her leg that has shattered into pieces, which have already started to callus. Her condition is not stable. This sweet bunny is only three months old.
Ms Daisy will require ongoing costly medical treatment.
Please consider making a donation today on #GivingTuesday to help Mariam and Ms Daisy.
Your tax-deductible gift of any amount is greatly appreciated!