Rabbit Care
Rabbit Supply List
Housing – We recommend using an exercise pen, sometimes referred to as a "puppy pen", to house your rabbit over using a cage. The cost of an exercise pen is less than a cage. An exercise pen gives a rabbit more room to move around and play until you have time to let him/her out to hop around for more exercise.  Cleanup is easier and bunny has more room in an exercise pen…
More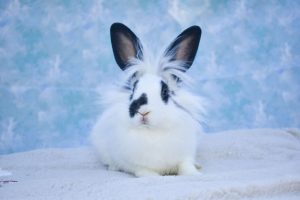 New Bunny Family Member
You've brought a bunny home. Now what do you do? How do you interact with your new bunny?
More
Diet For Rabbits
Hay (Oat or Timothy) must be available 24 hours a day! Feed a minimum of 1 cup vegetables for each 4 pounds of body weight. Feed a minimum of 3 types of vegetables daily. A variety is necessary in order to obtain the necessary nutrients. Choose one vegetable each day that contains Vitamin A, indicated by *…
More
Daily Rabbit Cleaning Checklist
It's important for a rabbits health to keep their area clean and sanitary. Taking these daily steps to clean your rabbits space will keep them happy and healthy.
Rabbit Litter Training
There are several types of litter that are safe for rabbits. Wood Stove Pellets and Feline Pine Pellets contain the urine odor the best.  Carefresh and Yesterdays News are also good litters to use. NEVER use clay clumping cat litter as the clay clumping materials can cause an intestinal blockage and can kill a rabbit…
More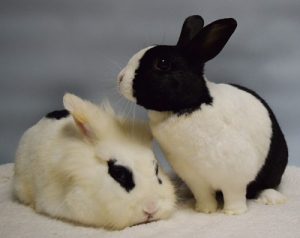 Bunny Bonding Basics
You're facilitating a relationship between two creatures, so try to remember that it's a marathon not a sprint. Patience and consistency are key.  Bonding is more stressful for us than for the bunnies, and it is one of the hardest parts of being a bunny parent.
More
Sacramento Area Rabbit Vets
Rabbits need specialized care and must see a Certified Exotic Veterinarian, not every Vet can properly diagnosis a rabbit…
More
Outdoor & Indoor Hazards
The most immediate hazard to an outdoor rabbit is attack by predators. While the House Rabbit Society does not keep statistics on predator attacks, we do of f er a warning based on the stories relayed to us by urban and rural rabbit caretakers across the country. A backyard hutch does not protect a rabbit from predators. Incidents include attacks by dogs, feral cats, raccoons, and coyotes; and more rarely, owls, hawks, opossums…
More
The Advantages of Exercise Pens
In the fours years of running a foster home, my husband and I have tried several different housing arrangements for both foster rabbits and our own. We've finally come to the conclusion that, by far, portable wire exercise pens are the most versatile, the easiest to clean, and the best way to bring out the most desirable qualities in a rabbit…
More
Gastrointestinal Stasis; The Silent Killer
It's an all too familiar story. "My bunny stopped eating, and then she just died." When we ask for details, we often learn that not only did the bunny stop eating, but she had been producing extremely small or even no fecal droppings, or showed symptoms of "runny stool." True diarrhea (unformed, liquid fecal matter) is uncommon in rabbits. The runny stool sometimes misdiagnosed as "diarrhea" in rabbits is often simply unformed, almost-liquid cecotropes…
More
 Gastrointestinal Stasis General Overview
Often, we will hear stories about how a bunny suddenly stopped eating and died; this is the fate of GI stasis. There are several different reasons a bunny could have GI stasis—stress, illness, pain, not eating enough timothy hay, not drinking enough water, etc.—but it's important to learn how to identify and take action against GI stasis immediately.
More