The Be Kind to Bunnies T-Shirt was inspired by rabbits like Oliver and Johnny. Oliver was a victim of abuse. Many in the US gave a voice to Oliver who was in the UK. This ultimately lead to his rescue and a new home. Johnny faced being euthanized after being abandoned with a cancerous growth...
Read more
Purchase a Wooden Rabbit Dream Home and Friends of Unwanted Rabbits will receive 10% of your purchase. Great prices!! That's a Win for your rabbit(s) and a Win for rescue rabbits!   
Order Here
Use the coupon code FUR.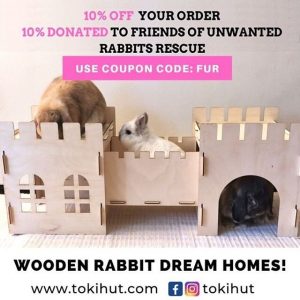 ...
Read more
Show off your true love for rabbits by supporting rabbit rescue! Friends of Unwanted Rabbits recently rescued a Mom who had 9 kits from a local shelter. Sadly, one of Amelia's kits passed away leaving 8 kits. We also rescued two baby Dutch bunnies, Percy & Olive from a shelter. We need to raise money to...
Read more
Keep the hay off the floor by using one of our specially designed Hay Bags. Purchase Hay Bags at Adoption Event or by emailing teamfur@gmail.com. $10.00 for a Hay Bag $15.00 for Hay Bag filled with Timothy, Oat, and Orchard Hay. (Available at Adoption Event's only). Proceeds go to pay for medical care and spay/neuter for rescue rabbits.