September 12th
12pm to 4pm
Bradshaw Animal Shelter
3839 Bradshaw Road
Sacramento, CA 95827
Meet FUR rescue rabbits and Bradshaw Animal Shelter rabbits available for adoption at the Rabbit Adoption Event.
We will be in the Classroom at the Bradshaw Animal Shelter.
All FUR Rabbits available for...
Read more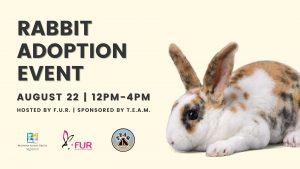 Join us for our next Adoption Event!
When:      August 22nd from 12pm to 4pm
Where:     Bradshaw Animal...
Read more
Join us on August 8th between 1pm and 4pm for the Bunny Bonanza adoption event at the Bradshaw Animal Shelter located at 3839 Bradshaw Road, Sacramento, CA 95827!
Friends of Unwanted Rabbits (FUR) will be hosting the adoption event in the classroom at the Read more
Interested in adopting a rabbit? We are doing adoptions by appointment due to Covid and RHVD2.
To adopt email us an adoption application for pre-screening. Click Here For Adoption Application
Email completed adoption application to us at friendsofunwantedrabbits@gmail.com
We will contact you to go over your adoption application. 
Click Here for Rabbits Available For Adoption
Read more