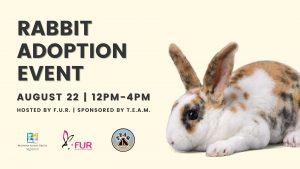 Join us for our next Adoption Event!
When:      August 22nd from 12pm to 4pm
Where:     Bradshaw Animal...
Read more
The Be Kind to Bunnies T-Shirt was inspired by rabbits like Oliver and Johnny. Oliver was a victim of abuse. Many in the US gave a voice to Oliver who was in the UK. This ultimately lead to his rescue and a new home. Johnny faced being euthanized after being abandoned with a cancerous growth...
Read more
We have a chance at $100,000 in lifesaving funds, but we need your help! Help Us Win $100K in Holiday Wishes from the Petco Foundation! Does the pet you adopted from Friends of Unwanted Rabbits brighten your life every day? Of course, they do! The Petco Foundation is celebrating how pets brighten our lives by inviting...
Read more
Don't buy a live rabbit for Easter. When the novelty has worn off rabbits are dumped at local area shelters endangering them to being killed.  Male bunnies are sexually mature at 8 weeks of age, females at 16 weeks of age. The cost to spay/neuter rabbits costs between $150 and $350. Rabbits have to see...
Read more