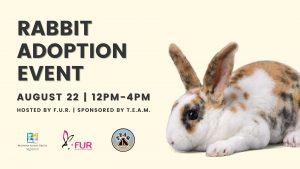 Join us for our next Adoption Event!
When:      August 22nd from 12pm to 4pm
Where:     Bradshaw Animal...
Read more
Adoption Donation for all  
ROYAL
 REW (Ruby Eyed White) Rabbits is reduced from $55 to $35.
Visit our Adoption Event - Saturday, March 3rd From Noon to 4:00pm at Petco - 855 East Bidwell, Folsom (next to Sprouts).
...
Read more