September 12th
12pm to 4pm
Bradshaw Animal Shelter
3839 Bradshaw Road
Sacramento, CA 95827
Meet FUR rescue rabbits and Bradshaw Animal Shelter rabbits available for adoption at the Rabbit Adoption Event.
We will be in the Classroom at the Bradshaw Animal Shelter.
All FUR Rabbits available for...
Read more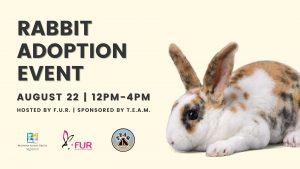 Join us for our next Adoption Event!
When:      August 22nd from 12pm to 4pm
Where:     Bradshaw Animal...
Read more
Any adoption is a commitment of time, resource and love! We often get questions about whether a rabbit needs a companion or how much more effort is required to take care of more than one bunny. Below are some considerations to help you make the right decision for your household.
Q: 

Won't having...
Read more