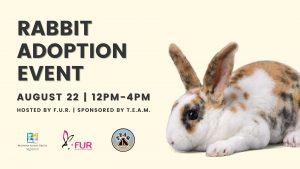 Join us for our next Adoption Event!
When:      August 22nd from 12pm to 4pm
Where:     Bradshaw Animal Shelter
Location: 3839 Bradshaw Road
                  Sacramento, CA 95827
FUR Rabbits will be available for adoption at the event as well as the shelter rabbits. FUR will be hosting monthly adoption events in the classroom at the Bradshaw Animal Shelter. Our goal is to find forever loving indoor homes for the 65 FUR Rabbits and the 30+ shelter rabbits.
We specialize in Bunny Speed Dating! Bring your healthy spay/neutered and vaccinated rabbit to the adoption event and we will help find him/her a forever bunny friend. Proof of spay/neuter and RHVD2 vaccination is required.
All FUR Rabbits available for adoption at the event are already spay/neutered and vaccinated against RHVD2.
Nail trims are available for a $10.00 donation to FUR.
Adoption donation for FUR Rabbits
T E A M Bradshaw is sponsoring all adoption fees for the Bradshaw Shelter Rabbits (ONLY)
The Bradshaw Shelter Rabbits not spay/neutered and vaccinated against RHVD2 at the time of the adoption event will be scheduled to be altered and vaccinated at NO additional cost to adopters after the event.
Masks are required.
FOLLOW US ON FACEBOOK & INSTAGRAM
We are adopting directly from foster care to adopter.
Interested in adopting?
Please contact your local Certified Exotic Veterinarian or you can contact the following Veterinarians in the greater Sacramento, California area.
Dr. Sanchez – Companion Animal Clinic in Auburn 530-885-3251
Dr. Brick – Madison Avenue Veterinary Clinic 916-961-1541
Dr. McRoberts – Petcare 916-791-9599
Dr. Griffiths – VCA Sunset Animal Medical Clinic 916-967-7768
Dr. Kittel – Kittel Family Veterinary Practice 916-714-5387
If you are interested in getting a friend for your rabbit please read these excellent bonding articles by HRS.
Watch this great video on how to go about bonding rabbits
Always wanted a rabbit. Learn more about having an indoor house rabbit by reading the following.
Great Rabbit Care Videos