Welcome! We're so glad you're here. Before we get started, we just wanted to tell you a little bit about ourselves. We, Friends of Unwanted Rabbits (FUR), are a rescue organization that rehabilitates bunnies who have been abandoned outside, surrendered from their owners, rescued from laboratories, brought to shelters, saved from hoarding cases, and...
Read more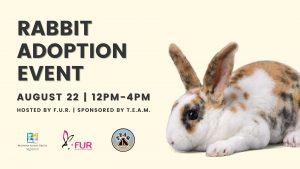 Join us for our next Adoption Event!
When:      August 22nd from 12pm to 4pm
Where:     Bradshaw Animal...
Read more
Interested in adopting a rabbit? We are doing adoptions by appointment due to Covid and RHVD2.
To adopt email us an adoption application for pre-screening. Click Here For Adoption Application
Email completed adoption application to us at friendsofunwantedrabbits@gmail.com
We will contact you to go over your adoption application. 
Click Here for Rabbits Available For Adoption
Read more
Purchase a Wooden Rabbit Dream Home and Friends of Unwanted Rabbits will receive 10% of your purchase. Great prices!! That's a Win for your rabbit(s) and a Win for rescue rabbits!   
Order Here
Use the coupon code FUR.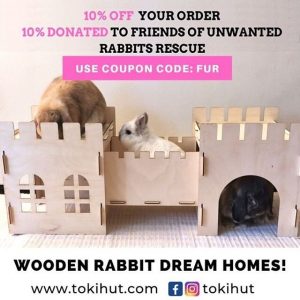 ...
Read more