Hazel Grace is a beautiful spayed female Harlequin. She is vaccinated against RHVD2. Hazel Grace is Mom to Lucy. She is a sweet rabbit who loves to be pet. Hazel Grace is very energetic and playful. Mom and daughter are not bonded but we are sure that Hazel Grace would love to have a bunny friend.
Read more
Cocoa is a darling dwarf female bunny. Cocoa is a sweet bunny. She loves to beg for treats and plays with her toys. She is still learning to trust humans. Cocoa is currently in foster care. She will be available for adoption after she's spayed at the end of January 2021.
FOLLOW US ON FACEBOOK
 & 
INSTAGRAM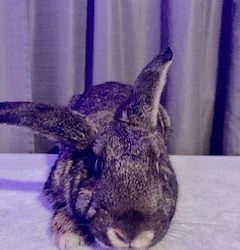 Ace is a neutered male. He is vaccinated against RHVD2. Ace was abandoned outside. He was running in the middle of the street when an animal control officer saw him. Along with a friend they stop traffic and were able to catch him. Ace is a sweet male rabbit. He is approximately 1 year old. He does...
Read more
Snickers is a neutered male. Comet is a female that is 12 weeks old as of January 3rd, 2021. Comet is one of Twix's babies. Snickers was adopted but then returned when the other female didn't bond with him. Snickers was so sad and depressed. We put Comet with him and he fell in love. Comet...
Read more