Vincent was rescued from a shelter that was going to euthanize him. He is a super sweet and curious bunny. He is simply adorable with what looks like white socks he's wearing. Vincent is neutered and vaccinated against RHVD2. He would love to have a bunny friend.
Upcoming Adoption Events
12pm to 4pm in...
Read more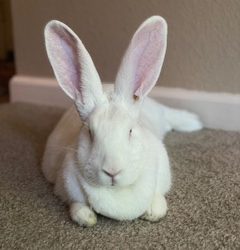 Whisper is a beautiful 9 pound New Zealand White rabbit, and is a rescue from a testing lab right here in Northern California. At about 1.5 years old currently, Whisper spent the first year of her life being poked and prodded at by humans. Miraculously, she made it out to the other side and has...
Read more