Bonny is a 13 month old with lots of energy.  She was rescued from a very bad outdoor environment and is the sister to Rupert and Butterscotch.  Addie is her mom.  She is spayed, vaccinated (RHDV2 Vaccine), and will require an annual booster, microchipped, and is litter box trained.
She is strictly indoors...
Read more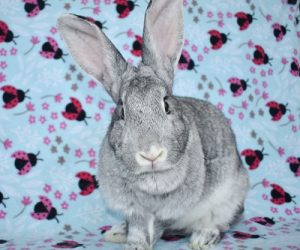 Bailey was abandoned at Crossroads Community Park in Citrus Heights. It's illegal to abandon domestic rabbits (Penal Code 597s). Bailey was suffering from heat exhaustion and severe ear mites. The ear mites were so painful that Bailey screamed from the pain when rescuers picked her up. No one knew she was pregnant at the time...
Read more