Anise & Pepper were abandoned outside on a property along with several other rabbits. These two darling rabbits grieved without the other. Once altered and recovered they were reunited. Both Anise & Pepper are very sweet and need a forever loving indoor home together. They have been spay/neutered and vaccinated against RHVD2.
Follow us on Facebook
 & 
Read more
Biscotti & Meringue are two darling altered Dutch Dwarfs. These two sweeties were adopted from us in 2011. Sadly, they are being returned because the daughter is going away to college and the rest of the family is moving and can't take them. Biscotti & Merigue need a loving forever home for them to live out their...
Read more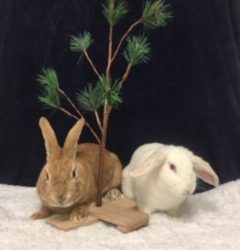 FUR welcomes Charlie Brown and Snoopy!
After weeks of having one or no rabbits Bradshaw Shelter received eleven rabbits in three days!
Charlie Brown & Snoopy were part of a group of six rabbits who were left behind when their family moved. A kind neighbor rescued them and brought them to the...
Read more
Strudel is a neutered Harlequin Rex with remarkable markings!
Strudel is curious about EVERYTHING!  He loves people and runs to the front of the exercise pen to seek out head rubs.
Strudel was one of four rabbits is one of the four rabbits FUR rescued from the Ventura Animal Shelter to make...
Read more