Rocket brown ears, brown eyeliner (Male): Rocket loves to explore! And while exploring he is zooming away. He zooms to every inch of a room. When he isn't zooming or exploring he loves to cuddle with his siblings. He loves getting pets. And will happily hop on your back. And boop you to say hello!
Read more
Jody and Checkers are a mother/daughter bonded pair. Jody is the mother. She was rescued with a group of rabbits who were abandoned and left to fend for themselves. She is a cautious rabbit who needs someone who can be slow and patient with her. She has a...
Read more
Acorn is a male Mini-Rex with velvety soft fur. He is vaccinated against RHVD2 and neutered. Acorn is very sweet and playful. Acorn has been adopted and returned twice through no fault of his own. Both times he was bonded to another rabbit but once home the other rabbits beat up on him. Acorn really would...
Read more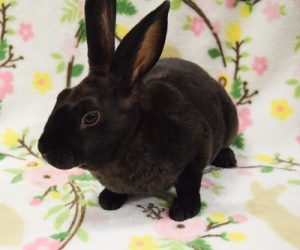 Ukiah is a darling male Mini-Rex. He was born on January 4th, 2019 to the beautiful rescue Mama Amelia. Ukiah will be available for adoption at our April 6th Adoption Event from 12:00pm to 4:00pm at Petco 855 East Bidwell Folsom, CA (Next to Sprouts & Office Depot). Ukiah would love to be adopted with one of...
Read more